Meet Maite Montenegro - Colombia's Next Superstar!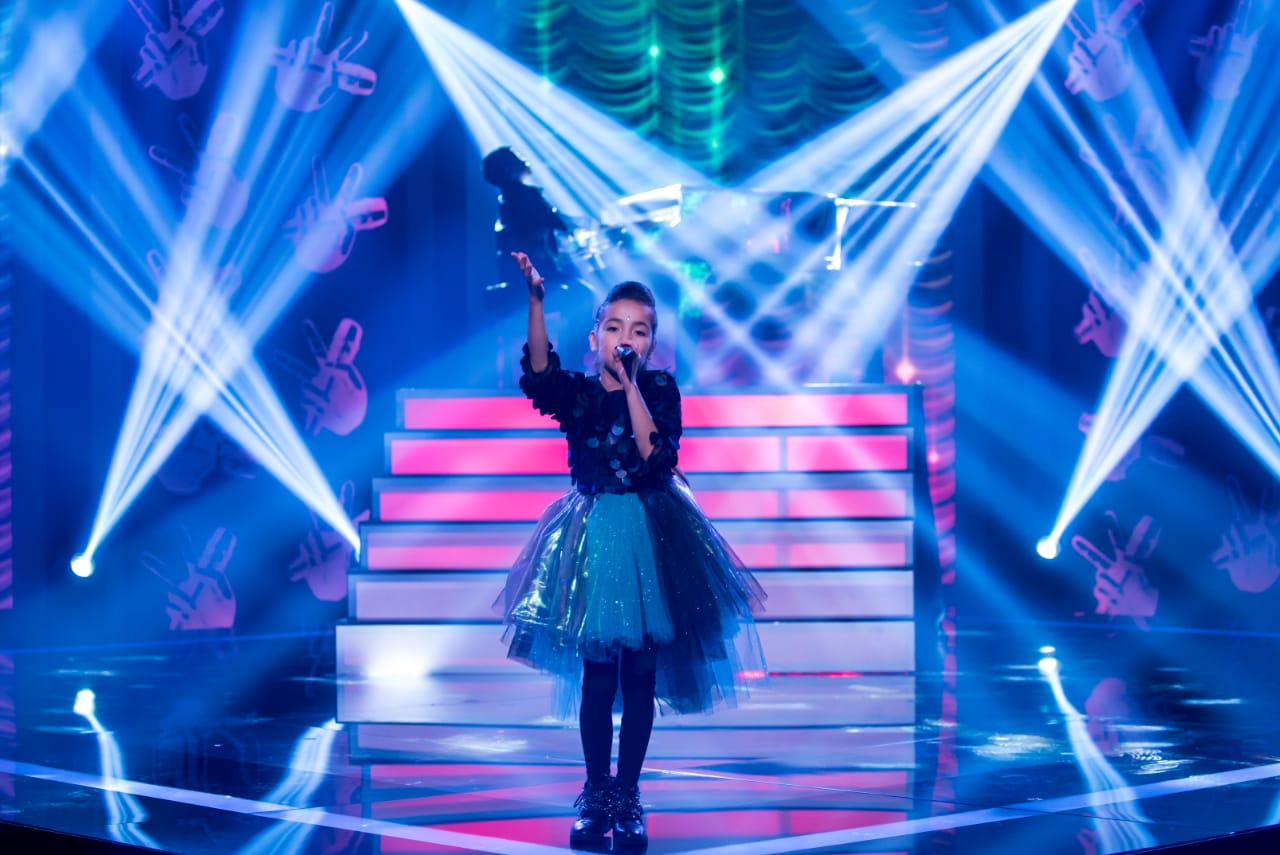 Addicted To Progress loves to shine the spotlight on rising talent from all over the globe. We love to hear their come up stories and hopefully inspire others by sharing their experiences, achievements, trials and tribulations. 

With that said, this interview is very special to us!

We recently had the honour of interviewing one of Colombia's rising stars, a very brave, talented, focused and confident young superstar in the making.
Ladies and Gentlemen, we present to you Maite Montenegro!




Hi Maite!

We just wanted to start off by saying you are awesome and such an inspiration!

Thanks for taking the time to do this interview with us. 
(You Can Listen To Her Answers Below)

1. Where are you from originally and at what age did you start singing and performing ?
De dónde eres y a qué edad empezaste a cantar y hacer tus presentaciones?

I'm from Colombia. I don't remember when I started to sing, so... in my brain, I have memories, when I was 3 or 4 years old and I sang in every place.
In the room, in the store, in the school, in the bathroom, really, everywhere. And the people heard me and they said "Wow, that girl sounds like an angel!" and I said, "Seriously? This is my talent, this is a dream, oh my goodness!" And my first performance was when I was 5 years old, in front of so much people. So, in that moment, I decided that music will be my life.

Soy de Colombia, bueno no recuerdo exactamente cuando empecé a cantar; tal vez tendría tres o cuatro años y yo ya me sentía una pequeña shakira jejjejeje. Mis padres me cuentan que yo cantaba siempre y en todo lugar si íbamos de compras al centro comercial yo estaba cantando, si me estaba bañando yo estaba cantando, si estaba en la escuela yo estaba cantando realmente todo el tiempo estaba cantando era algo que estaba en mí, como una necesidad de querer expresarme a través de la música. Ya mi primera presentación la realice a los 5 años frente a un público fue la primera vez que tuve la oportunidad de tener un micrófono en mis manos entonces fue algo muy bonito porque fue de esos momentos donde tú sientes que esas son las cosas que te gustan y que te hacen sentir feliz.
2. When did you and your parents decide that this is something you wanted to do professionally?
Cuando tus padres y tú decidieron que querían tomar la música de manera
profesional?
After my first performance, my parents saw potential in me, how I did it with passion, how I like it so much, and obviously, how I feel like Beyonce on the stage. And then they put me in musical school, and then, I began to take music seriously.

Después de esa primera presentación en público mis padres se dieron cuenta que no era un Hobby sino que de verdad era algo que yo disfrutaba muchísimo y que me veíamuy decidida a hacerlo, mis padres empezaron a ver el potencial en mi con los instrumentos musicales, veían mi manera de interpretar y de sentir la música, mi
manera de expresarme en un escenario y tomaron la decisión de ponerme en escuela musical donde aprendí a tocar piano y tuve la oportunidad de desarrollar mucho más mis habilidades musicales, mi oído musical y creo que ya fue en ese momento cuando en familia decidieron darme su total apoyo y permitirme dedicar a la música claro sin dejar de lado mi educación.

3. You spent some time in Trinidad and Tobago, what was your experience like while you were there? Did you get a chance to perform?

Tú pasaste un largo tiempo en Trinidad y Tobago cuéntanos cuál fue tu experiencia y si Tuviste la oportunidad de hacer alguna presentación?

 Yes, I love Trinidad and Tobago, it is my second home, because my dad is a Trinbagonian. My time in Trinidad is the best time. I love my school, my friends, my house. I miss doubles, seriously, my pets. I love soca. Trinidad give me the wonderful opportunity for singing at Queens Hall, Decibel 2017, at the Savannah, Movie Towne, at Gulf City, many karaokes and Red Runway. I had the opportunity to sing with Nailah Blackman and dance with Xtreme Dance Academy. For that, Trinidad, will always be in my heart. 

Sí claro Trinidad y Tobago es mi segundo hogar mi padre y toda su familia son de ese país y tengo maravillosas experiencias, siempre que estoy en trinidad disfruto mucho mi tiempo. Yo amo mi escuela en Trinidad, amo a mis amigos, extraño mucho mi casa, mis mascotas, extraño la comida; sobretodo los doubles. me encanta la música (Soca), el Carnaval, además tuve la oportunidad de cantar en Queens Hall (decibeles el 2017), también cante en la Sabana al lado de Naila Blackman eso fue fantástico, en Movietowne, en City Goll, en diferentes karaokes, participe en un concurso gane y me presente en Red Runway, extraño mi academia de baile X-trame Dance Academy; de verdad que Trinidad me ha dado momentos especiales y amistades muy valiosas y por eso Trinidad y Tobago está en mi corazón.
Maite performing at the Kaiso Blues Cafe in Port-of-Spain, Trinidad
 Maite performing at Decibel 2018 at Queens Hall, Trinidad
 Maite performing at Fiesta Plaza, Movie Towne.
4. What do you like to do when you are not singing?

Que te gusta hacer cuando no estás cantando o en tu tiempo libre?
I like to play with my pets. I like to dance, paint, I do craft, I see tv, I go to the pool with my friends, I like to design my outfits. I have a particular style, I work in my own style, that is what I like to do in my free time.

Me gusta mucho bailar, pintar, hacer manualidades, diseñar mis propios outfits; tengo un estilo muy particular entonces me gusta diseñar mi propia ropa, mis propios trajes para mis presentaciones y shows, me divierto mucho con mis amigas, voy a la piscina, voy a cine, Leo, veo mucho Animal Planet, Me encantan mucho las películas de princesas de Disney Eso es lo que hago en mi tiempo libre.
5. You are such a brave young girl. Where does this come from? Do you ever get nervous before you perform?

Siempre te ves como una chica fuerte en el escenario; Sientes nervios cuando estás apunto de salir a hacer tu show, tu presentación?

Thank you (laughs). Of course, I get nervous all the time, but I have God on my heart, and I know that I have to do my best and the people don't feel my fear. The most important thing for me is that the people enjoy my performance and leave with a smile on their face.
(Jejeje) Muchas gracias, Sí claro! por supuesto Siempre tengo mucho miedo y nervios de hacer algo mal o de equivocarme. Pero antes de salir le pido a papito Dios, le hago una oración pido su bendición y me lanzó al ruedo. Lo más importante es que el público y que la gente que esté presente no perciban mi miedo y que regresen a sus casas con una enorme sonrisa y satisfacción de haber disfrutado de un buen show o concierto.
6. You were a very popular contestant on La Voz (Colombia's version of the Voice), what was the experience like?

Fuiste una concursante muy popular en la reciente versión de La Voz Kids en Colombia. Cuál fue tu experiencia?

Wow, I have so much wonderful experiences. I met exceptional people, I grew professionally and as a person. I had the opportunity to reach many hearts, through the TV, and to take our messages to children , who are like me, to follow their dreams.

Sí gracias a Dios tuve el privilegio y la gran fortuna de hacer parte de La Voz Kids
Colombia y fue una experiencia inolvidable, muy enriquecedora; me hizo crecer
profesionalmente, como niña, como persona, conocí gente maravillosa, gente
excepcional, y sobre todo me dio la oportunidad de llegar a muchos corazones a través de la televisión y de transmitir un mensaje de amor de paz de Esperanza, de mostrarle a los niños y decirles que si es posible soñar, que si nos preparamos con mucho amor con mucha disciplina y dedicación podemos cumplir nuestros sueños. entonces fue una participación muy bonita un recuerdo que quedó y quedará para siempre grabado en mi corazón.
]
7. Are you working on new music to be released in the upcoming months ? 
Estás trabajando en tu nueva música, tienes proyectos para los próximos meses?
Yes, I am working on music with my parents and my vocal coach from The Voice Kids. I hope to have my songs out within the next coming months and be on the digital platforms like Spotify, Deezer, You Tube and i-Tunes.
Si! Junto con mis padres y con mi vocal coach de La Voz Kids estamos trabajando en algunas producciones musicales y se viene un proyecto muy bonito que se llama La Voz de Tus Sueños; junto con Fanny Lu y algunos de mis compañeros de La Voz
8. Can you give us any hints?

Puedes adelantarnos algo?
   (Laughs) No, I can't give you anything right now, because I want it to be a suprise. You can follow me on my social networks:

SUBSCRIBE TO MAITE ON YOU TUBE

Jejeje No puedo es una sorpresa, sólo puedo decirles que es un trabajo muy bonitohecho con mucho amor desde el corazón y que espero que se lo disfruten y si gustan. Pueden seguirme en mis redes sociales en instagram como Maite @maitemusic 08 en mi fanpage como Maite Montenegro Artista y en YouTube como Maite Montenegro Artista ahí estaré en los próximos días subiendo toda la información de lo que se viene para los siguientes meses así que todos súper pendientes y conectados conmigo.
9. Who are some of the artists who you look up to?
Tienes algún artista que sea tu referente en la música?

My inspirations in the music industry are Alicia Keys, Beyonce, Etta Johns, Frank Sinatra, Michael Jackson and of course, Shakira.  

Bueno tengo muchos en realidad por ejemplo me encanta mucho Alicia Keys, Beyonce, Michael Jackson, Etta Johns, Frank Sinatra, Bruno Mars y por supuesto Shakira de mi país.

10. What is your favorite subject in school?

Cuál es tu materia favorita?


I have two favourite subjects, Science and Art.
Tengo dos: Ciencias y Artes
11. Where do you see yourself in the next 5 years? 
Cómo te ves en 5 años?
 In 5 years, I would like to see myself on the world stage, touring and hearing my music on the radio. I hope to transmit positive messages of love, peace and hope.  
 
Me veo como un artista ya consagrada en los grandes escenarios del mundo, haciendo mi shows, haciendo mi música, produciendo mis propias canciones, dirigiendo misvideos, con mi propia línea de perfumes y de ropa, me veo recorriendo el mundo llevando alegría a través de mi voz y siendo una abanderada de las causas a favor del planeta y de la igualdad social.
12. What advice would you give to other young kids like yourself who want to get into music professionally?

Quisieras darle algún mensaje a los niños que como tú desean iniciar desde jóvenes una carrera musical?

My central message is to fight for your dreams, with hard work, passion and desire to succeed and belief in God, all things are possible.

Claro! Mi mensaje principal para los niños es que peleen por sus sueños, con su
corazón con sus ganas, con sus deseos, Que se preparen, que se dejen guiar por sus padres, que sean disciplinados, que se pongan metas, que este es un camino largo y un poco difícil pero con amor y si tienes a Dios en tu corazón todo es posible.
---
---