INTERVIEW: Whitney Slavin Has A Passion For Fitness! (CALIFORNIA)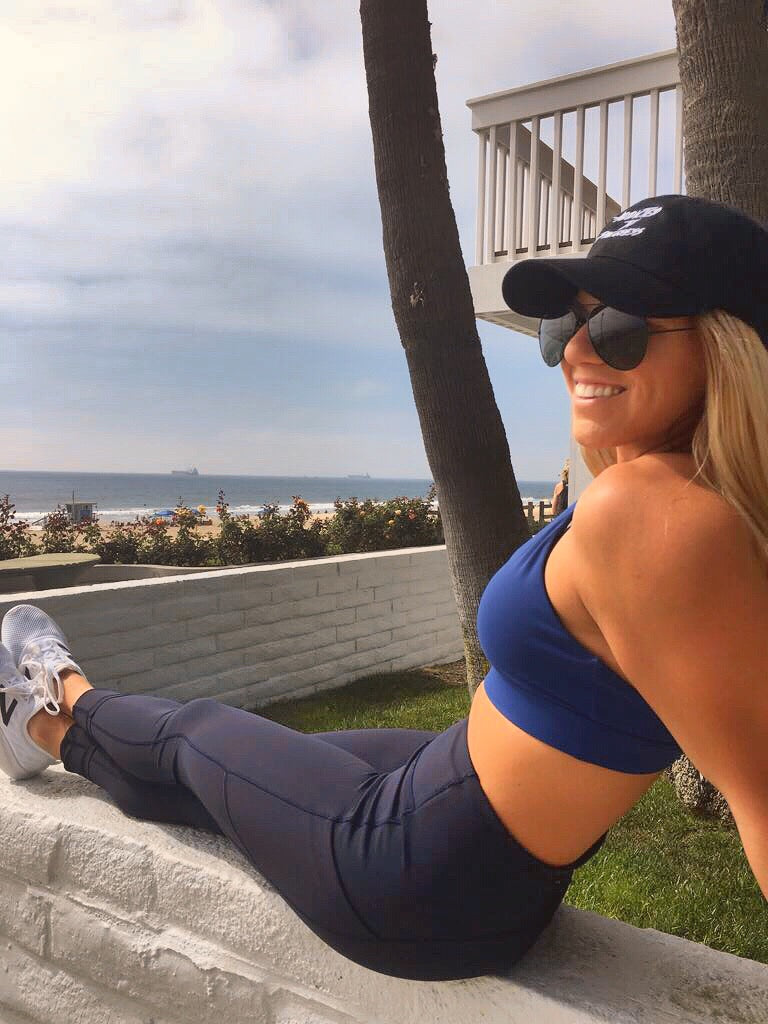 1) How, when and where did you develop an interest in fitness/health & wellness?  


Unlike a lot of kids, I didn't grow up playing sports or place emphasis on physical fitness. I was, however, a serious ballet and jazz dancer for most of my childhood, but to me it didn't translate to fitness. 
I think the passion for health and fitness were always inside of me, but it wasn't until I was 16 when I began working for a gym in La Jolla, California, called The Boxing Club. It seems almost immediate that I became engulfed in a fitness mindset. I would take classes, lift weights, watch the trainers with clients, and take private lessons with them. About 6 months into working out, I had seen some serious changes in my strength, endurance, and mental capacity, however, I wasn't seeing enough change in my body. I will never forget the conversation with the trainer that day who told me straight, "you won't see any changes in your body if you don't change your diet". That day, I began studying, researching, learning, reading about diet, nutrition, macronutrients, etc. From there I hit the ground running and never looked back.


2) Did you have any other interests/natural talents prior to this that you wanted to explore or wish you did?
A common joke between my personal training clients and me is that I am  their "Trainer / Therapist", because personal training, is personal. We spend intimate time together multiple times per week, which gives us an opportunity to get to know each other and share our lives. I think some clients are drawn to me for this reason because I always thought I would go into Psychology, as a therapist.  Aside from the fitness aspect of personal training, I love helping people. Part of my job is training people to believe in themselves, to trust themselves, and to love themselves. I do think I would have been a good therapist, but luckily I get to have a piece of that in my training business!

3) At what point did you realise/decide this was a career you were going  to seriously pursue?
While I was working for the boxing club, I got my personal training and group certification. However, I stopped training while in college to get "real business experience".  I worked for a Law Firm, a non-profit organization, a real estate appraiser, and a supplement company. While I was working for the supplement company, people would always ask me if I would train them or help them with their diet. But I always thought my path was corporate business. I graduated college with a Bachelor of Arts in Strategic and Corporate Communication and was accepted to two prestigious Master's programs. I was abut to pack my bags when I decided that I had an opportunity to do something I loved. I put graduate school on hold because I didn't think I would ever be as passionate about something so I decided to jump both feet into training. A few years later, I have grown Fitney to be a successful training business and finally putting myself through graduate school.
4) What challenges/setbacks did you encounter in this pursuit?
There are so many! But in all honesty, I have learned to appreciate every struggle and difficult time in my life. I like when my life becomes challenging because it means I am growing. Being comfortable is being stationary. I won't share every struggle but one of the biggest was a few years into working for the Boxing Club. I became obsessed with diets and nutrition. I did every diet out there, paleo, low-carb, vegetarian, vegan, raw, etc. I started to cut things out that were unhealthy, one by one. At first it was cheese and gluten, then bread, and legumes. Only after a short time, not much in my mind was healthy.

And the more I cut foods out of my diet, the more weight I lost. It was a downward spiral for a few years. From the outside, I looked healthy, fit, and strong. But on the inside, I was in a constant battle with myself. I had developed orthorexia, an obsession with only eating 'healthy' food. Nothing was healthy enough. Over time, orthorexia turned into anorexia. I was brainwashed myself that I wasn't thin enough, I wasn't fit enough, and I wasn't healthy enough. I was able to fool my friends and family, but from June 2013 to September 2013, the people around me couldn't ignore it anymore. I had become a walking skeleton at 83 pounds. I fought tooth and nail that I was fine in my ways, and after 6 months of trying to gain weight back, I admitted I had a serious problem and checked into treatment for an eating disorder.
Looking back, this was one of the best things that happened to me. While my eating disorder only showed up later in life, I believe it was always there. Like most young women, I was uncomfortable in my own skin, judgmental about my appearance, and insecure. I thought obtaining the highest "health" and "fittest body" would change the way I felt about myself. What I learned in short is that confidence comes from within. What we tell ourselves everyday is what we believe. I learned to love my body at any size and for what it can do, rather than what it isn't.   


5)  What would you say was the main turning/tipping point in your career that really put you on a forward path?
When I stopped worrying about what people thought of me and my business is when it truly took off. In society, a personal trainer isn't on the same echelon as a lawyer or doctor, but I believe I am an expert in my field. I take my job seriously and I am a professional. When I began looking at my business and my profession as every other professional, it took off!
6) What are your key objectives now and what future goals do you have your eyes on?
I just moved back to my hometown of San Diego, California and I am rebuilding my business. I am pursuing my Master's Degree as well. Moving forward, I have my eyes on continuing to grow as an expert in fitness and health while providing and teaching my clients about the love of health and fitness!






FOLLOW WHITNEY 

INSTAGRAM

WEBSITE


SHOP ON ATP STORE 
(CLICK ON IMAGE BELOW)
---
---