INTERVIEW: Meet Madame Maharaj, Trinidad & Tobago's Next Cosmetology Mogul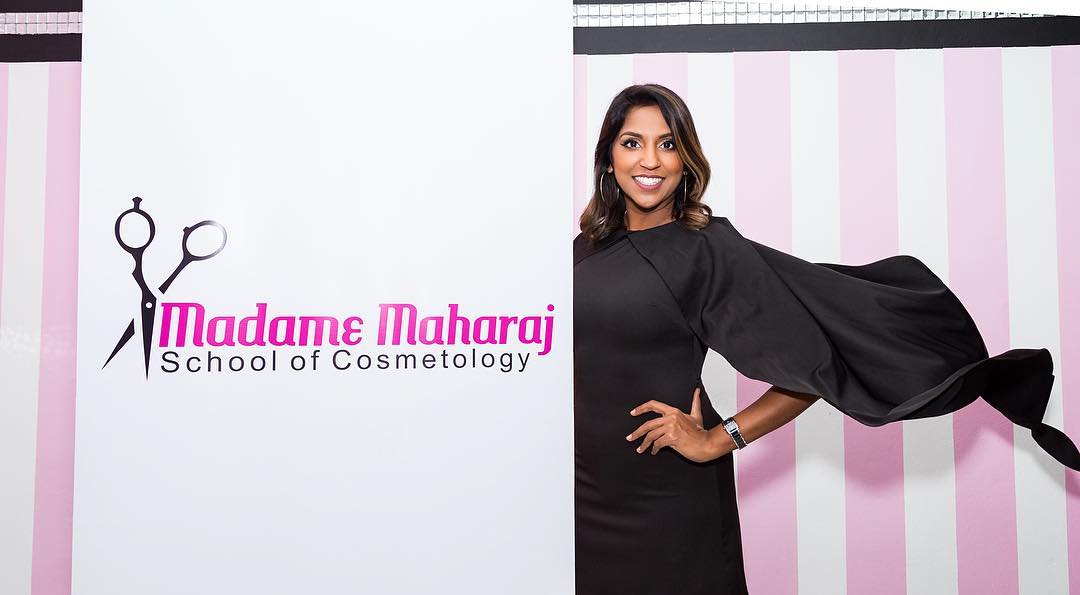 The Beauty and Cosmetology industry is continuously growing worldwide. According to The Bureau of Labor Statistics, U.S Department of Labor, employment of barbers, hairstylists and cosmetologists is projected to grow by 8 percent from 2018 to 2028. That's faster than the average for all occupations, with population growth leading the greater demand for hair care services in particular.
With that in mind, we decided to look into global trends within Cosmetology and while doing so, we had the honor of interviewing a young progressive mogul from the Caribbean who agreed to share part of her journey and come up story with us. Ladies and Gentlemen, we present to you Madame Aruna Maharaj!
1. Hey Aruna, where are you from originally? We see you are based in Trinidad & Tobago, what's life like there?


Hi, I was born and raised in Trinidad & Tobago. It's a small Caribbean island very close to South America. The weather is mostly tropical, with some rain from time to time. Trinidad has both island-life & hustle and bustle corporate world. It's a great balance of both work & relaxation.

2. When did your passion for cosmetology begin?



I was born into the industry so I was doing everything naturally. There was never a real moment when I discovered my passion for beauty, it was more like it was pre-destined. Even the courses I did in my earlier years, I was forced to do it by my Mom; at age 14 was my first makeup course.



3. Who were some of the cosmetologists that inspired you during your come up?

My grand-mother was the first and original Madame Maharaj.

She was the first woman in Trinidad to color her hair. And she established the first cosmetology school in Trinidad. She would have been a MAJOR inspiration. 

4. What would you say is the biggest misconception people have about cosmetology and/or cosmetologists?



That people who do cosmetology are dumb or not academically inclined. But we have had doctors and attorneys quit their jobs to pursue a career in cosmetology at our school.

5. We see that you have the #1 Hairdressing Academy in Trinidad & Tobago! Congratulations! That's amazing. Can you tell us a bit more about the Madame Maharaj School of Cosmetology?



6. You must have a crazy schedule balancing career and business. What do you do in your down time, when you aren't working or running your academy?

I love adventures and nature, so whatever little time I get to myself I try to go to the beach, or a park somewhere! 




7. What does progress mean to you?

Progress means learning and growing. It means evolving not just professionally but also personally, as a human being. 

8. We see that you are a proud vegan and animal lover. What inspired you to turn vegan?

I had an awakening earlier this year when I started to lose touch with those closest to me, and it took my world almost crumbling around me for me to wake up and see what is really important in life. I've since put my ego aside, and worked it out. Healing parts of me, opened up a new side to me that I did not know I even had. From this a lot of clarity has come and with this clarity I realized that we have to LOVE everything and everyone around us, including animals and trees. We are just as much a part of nature as a tree. We are no different from a tree other than the fact that we have intellect. Apart from that, we are the same and as such, I don't think we have the moral authority to hurt an animal.

9. What's your favourite animal and why?

Dogs for sure! Only because they give love so unconditionally and so willingly. We can learn a lot from how a dog is capable of loving. 


10. What advice would you give to aspiring cosmetologists coming up in the industry?

To focus on yourself and your clients. Yes it is important to have an idea of what the competition is doing, but not to the point where you compare your work to theirs or yourself to them. Each of us is unique, so once we mind our business and focus on ourselves, success is inevitable.

11. We see you love to travel as well. Where is your dream place to visit that you haven't been to as yet?

Indonesia!!!

12. What's next for Aruna and the Madame Maharaj School of Cosmetology?

We are planning to start placing more emphasis on inner beauty and not only outer beauty. We are including new modules in our cosmetology syllabus to cover not only hair, skin, make up, nails etc. but also things like Inter & Intrapersonal development, communication, customer service, small business planning and more. This way students can have the soft skills needed to complement their technical skills. 

Mme Maharaj School of Cosmetology was established in 1957 by Ramdoolarie Maharaj and was the first Hairdressing Academy in Trinidad & Tobago.  When she went by boat to France to further specialize in the field, no one would ever imagine how one woman would so considerably contribute to shaping the beauty industry in Trinidad and by extension, the Caribbean. It was in Paris, France, that she was bestowed the title of "Madame." Since then the school has educated over 6000 students in the field of hair and beauty culture. The main goal of the institution since its inception is: "To provide the highest quality education for all students. To prepare them for the world of work and to ensure that they become professionals in the field of Cosmetology."

FOLLOW MADAME MAHARAJ SCHOOL OF COSMETOLOGY
---
---