INTERVIEW: Meet Danya Barsalona - Professional Footballer, Reporter & Advocate For Gender Equality In The Beautiful Game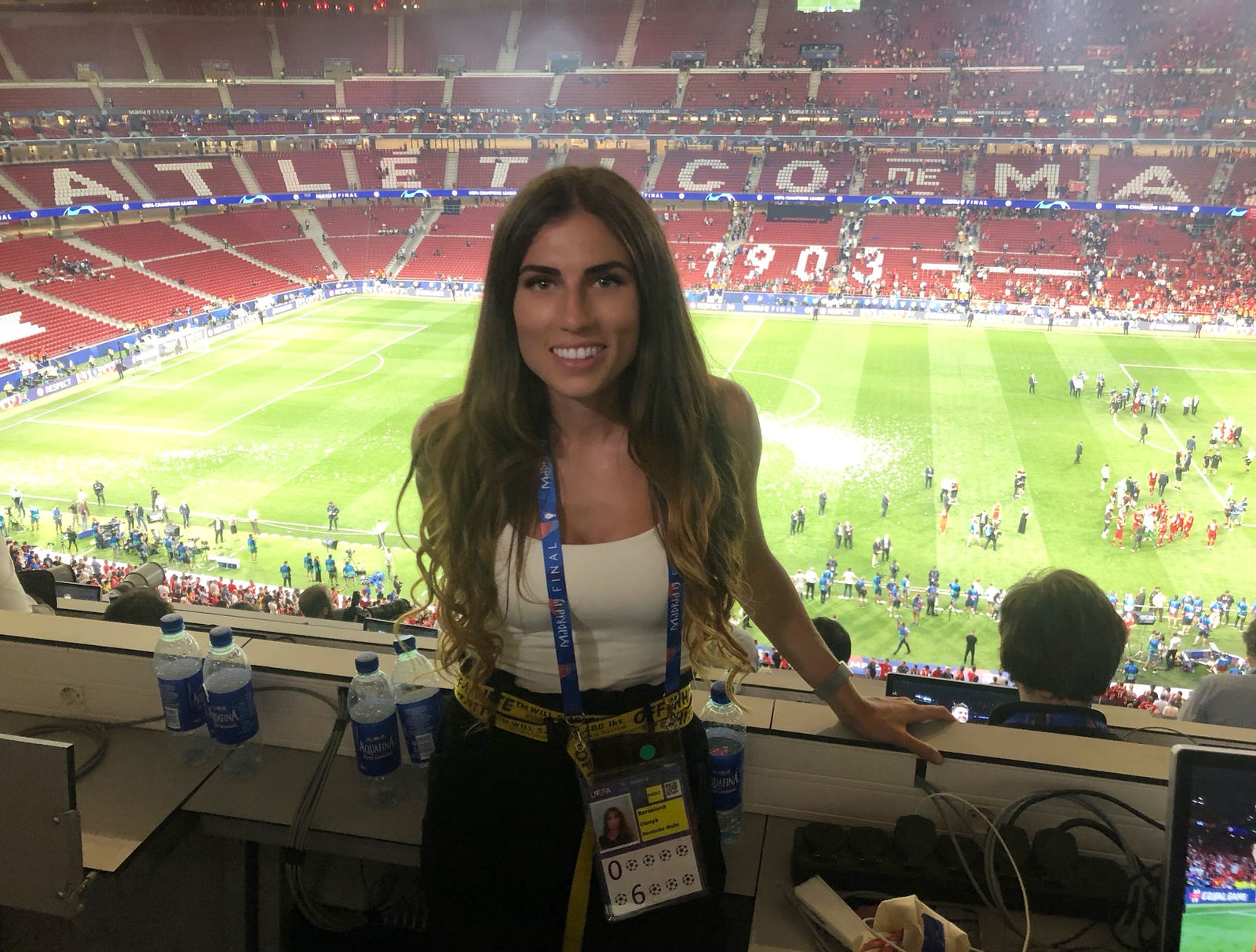 Danya Barsalona 
1) Where are you from and how was your childhood growing up there?
I was born in Toronto, Canada to Italian parents. I grew up in a small town outside Toronto called Stoney Creek. My childhood was filled with sports, friends and lots of football. I have two brothers who also play so between us 3 we were always on the go for football. 
2) 
How long have you been playing football and what got you interested in it?
I've been playing football since I was about 6 years old. My father (coming from Italy) always had a passion for football and grew up playing himself so my brothers and I grew up with a ball at our feet and always watching Serie A on TV. As soon as we were old enough to register for organized football my
father
 registered us. The first year I actually refused to play because I didn't like the long socks! I immediately regretted that decision and have been playing ever since.
3) 
What is your dream team to play for and why?
My dream would be to play for a team that treats their women's team like they treat their men's team because in women's football there are too many teams where the entire women's program is completely overlooked and forgotten. Thankfully now things are slowly starting to change and the situation is getting better. 
4) 
Is it hard being a female playing football? Are there any gender challenges or stereotypes that have been a challenge for you? 
Sometimes it is definitely hard. More so in Europe than in North America because in Europe football is still seen predominantly as a men's sport so a lot of stereotypes still exist around the women's game which in some cases causes the women's game/teams to be treated with inferiority. For example, a women's team playing at a higher level than a men's team from the same club will often times have to train on a turf field while the men's team will get to train on a grass field. The men's team will also usually have access to better equipment and even things like physiotherapy or gym memberships which wouldn't be available to the women's team. This isn't the case everywhere obviously because teams like PSG or Lyon and even Bayern Munich have fantastic set-ups for their women's teams but unfortunately the experience of being a professional women's player can vary greatly from team to team.
Also, the notion that women's football is not as good as men's football is a constant topic and there are always comparisons made between the two - which is unfair because for a long time in some European countries women's football was actually illegal so the men's game is obviously way ahead in every way. Slowly, people are starting to understand that if an investment is made into the women's game (things like quality coaching for youth, good training facilities, etc.) the level will increase and we've seen this pay off in countries like Italy and Spain who performed very well in the World Cup after both countries made some effort to support the women's game more. With the increased visibility that women's football is getting thanks to the Women's World Cup and TV deals, people are starting to see the game more and change their attitudes about it which is great because ultimately it's not about competing with the men's game but having a space where women can play the sport they love as professionals. 
5) What do you do when you aren't working? How do you unwind?
When I'm not working I like to unwind by working out, watching football, reading a good book or cooking/baking!
6) Who is your favorite football player and why?
My favorite football player is the original Ronaldo. He had every quality you could ever need as a player and was completely lethal when it came to goal scoring.
7) What advice would you give to other athletes to help them stay focused and in shape during COVID-19?
To try and stay focused on their goals and to not be too critical of themselves because it's a difficult time for everyone. You have your own body and you can still train at the very least with bodyweight exercises, some people have access to other equipment and that's great as well. Take the time to work on other aspects of your game such as technical/tactical aspects and also the mental aspect which is really important. 
8) We see from your profile you are also a journalist. How do you juggle being a player and reporter?
Well, I would say that being a player helps me in my job as a reporter because I can relate to players in a way that most people can't because I'm also a player. 
Sometimes it's difficult to juggle both because I travel for various games and documentaries/pieces that I'm making so I have no choice but to miss training with the team sometimes. My coach knows though and is very supportive and I always maintain my own fitness and training outside of our team sessions as well. It's easy for me because football is my passion and I get to do it as a job so I consider myself very lucky. 
9) What is your favorite quote?
"To give anything less than your best is to sacrifice the gift" 
10) Do you have a dream place you would love to visit? If so, why?
I'd say probably Argentina, because it's somewhere I haven't been yet and I want to see the way they live and experience football - it's so passionate! I'd also  love to see a Boca Juniors vs. River Plate game at the Bombonera.
11) What's on your music playlist right now?
 Anything by Drake. 
 12) What makes you Addicted To Progress? 
 The fact that it never ends, you can always improve and set new goals to achieve.
 13) Where do you see yourself in the next 5 years?
 Happy and doing what I'm passionate about! 
Instagram: @dbarsa
---
---