Hi Voice of Baceprot! We absolutely love your music and vibe! What was it like growing up in Indonesia? Also who came up with the name of the group and what is the meaning behind the name?
 
Hello! Thank you for the appreciation. Growing up in a country that has a lot of diversity is great. It helped us to be tolerant and to get used to differences. Abah Erza (our teacher and manager) gave us the name "Voice of Baceprot". It means 'noise'.


What are the names of all the members of the band and what instruments do you all play?

I'm Firda Kurnia (people call me Marsya) and I am the guitarist and vocalist, Widi Rahmawati is the bassist and Euis Sitti Aisyah is the drummer.



PHOTO SOURCE: RADAR CIREBON


3. We read that your middle school guidance counselor introduced you all to heavy metal music? What was it about heavy metal rock music that you fell in love with?

Yes, we were introduced to metal music by Abah Erza. He is a guidance counselor in our school. We like metal music because it has loud tones & gives life to those who listen to it. Moreover, the lyrics of the song were defiant and highly critical. Something that suits us perfectly.

4. Who were some of the heavy metal groups that would have influenced you?

There are many and not just heavy metal band only. Bands like SOAD, Lamb of God, RATM, Linkin Park, Dream Theater, Slipknot, RHCP and many more


PHOTO SOURCE: VOICE OF BACEPROT


5. What was the initial reaction of the people of Indonesia to you all doing metal rock music?

We got all kinds of reactions. Some gave their support through commendation and the others gave their support through criticism and verbal abuse. But whatever their response was, we enjoyed it.

6. In the song "School Revolution", there are parts where you are rapping or performing hip hop styled vocals. Are you also influenced by hip hop music? Besides metal do you listen to any other genres of music?

I (Marsya) actually like hip hop music too. I listen to a lot of hip hop music like Eminem, or a band with a rap song like Linkin Park, RATM and many more. The three of us have different musical taste. Widi loves the funky music like RHCP, Sitti loves Trash metal band like Lamb Of God, and many more. So, we like to call our music "Hip Metal Funky". A combination of hiphop, metal and funky music. We also listen to a lot of different genres.



7. We read that the band has been the victim of cyber bulling and even received threats from people telling you to 'stop doing this type of music'. As a team, how do you deal with this sort of negativity?

We always to uphold one another. We believe that what we're doing isn't wrong or forbidden. People can say anything because it is their right. But they won't be able to stop our music

8. We are very intrigued to know what your creative process is like? Can you share with us any insight about your process of creating new music?

The songs we make are inspired by the things that happen around us. Like climate change, illegal logging, about our river and forest that was ravaged to become a tourist attraction, criticism of the school system, or to the corrupt government. We discuss these things with Abah (our guidance counselor), and he helps us make it into a song lyric. Then our job is to produce the musical instrument.


PHOTO SOURCE: MEDCOM




9. Where are some of the places the group would have toured and what would you say was your most memorable gig to date?




We performed in various countries and at various muisc festivals in the world like Wacken Open Air, Coachella and many more. For us, every stage always gave a different impression. We were performers at Literation event in Bali and Jogia (Indonesia). The audience was very excited. They did moshing and partied together. It made a great impression on our music trip.

PHOTO SOURCE: VOICE OF BACEPROT
        
        10.  What do you all do when you aren't touring or making music?

        We usually take time to spend with our families. Helping our mother with 
        her work or a casual chat in the studio and looking for inspiration for our 
        music.
PHOTO SOURCE: BIENNA LE JOGJA
11. What advice do you have for other young ambitious women (especially Muslim) who may want to do metal music or follow their passions in any field they wish, even if it's against their traditional country or community values?
You can be whatever you want to be. Just like men, women get to choose. because great things are out there and it won't matter what is your gender. As long as you're capable, you can be great.
12. Do you have any dream collaborations? Who are some other bands or artists you would love to collaborate with?
Perform with RATM, SOAD, Lamb of God, Dream Theater, Slipknot, and many more. Or become their opening performance maybe. Hahaha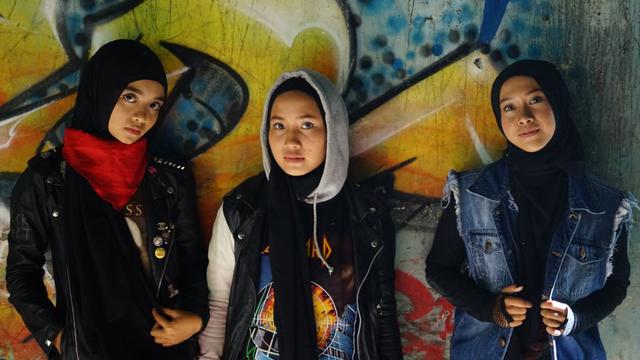 SOURCE: VOICE OF BACEPROT
13. What makes you Addicted To Progress?
What we like about progress is the process. The things that we've learned from this process that have sustained us today.
14. What's in store for the band in 2020?
Our plan this year is to keep working and produce quality music.
SOURCE: VOICE OF BACEPROT
Note: All interviewee responses have been stated as verbatim as possible,  to maintain honestly and accuracy in translation
SHOP ON ATP STORE